8 min read
Increased Police "UDrive. UText. UPay"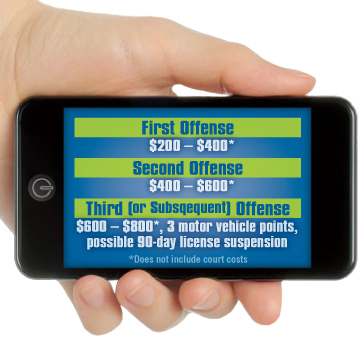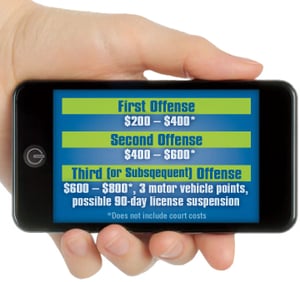 Word has it there are funds being allocated to the towns below to increase their presence to crack down on "UDrive. UText. UPay". See if your town is listed.
Keep in mind, if you receive subsequent tickets for this infraction, there is possible suspension of your license on the 3rd ticket (within a 10 year period). If you happen to get a ticket, contact our office for representation to have it dismissed or reduced by calling 800-709-1131
. Of course, it is always more cost effective to not text and drive. And above all, save a life!
Atlantic
Absecon PD $5,500.00
Atlantic City PD $5,500.00
Egg Harbor Twp PD $5,500.00
Galloway PD $5,500.00
Hamilton PD $5,500.00
Hammonton PD $5,500.00
Northfield PD $5,500.00
Stockton University PD $5,500.00
Bergen
Bergenfield PD $5,500.00
Carlstadt PD $5,500.00
Closter PD $5,500.00
Edgewater PD $5,500.00
Elmwood Park PD $5,500.00
Fair Lawn PD $5,500.00
Fairview PD $5,500.00
Fort Lee PD $5,500.00
Franklin Lakes PD $5,500.00
Garfield PD $5,500.00
Glen Rock PD $5,500
Burlington
Burlington Twp PD $5,500.00
Delanco PD $5,500.00
Delran PD $5,500.00
Lumberton PD $5,500.00
Medford PD $5,500.00
Mount Laurel PD $5,500.00
New Hanover PD $5,500.00
Pemberton PD $5,500.00
Camden
Barrington PD $5,500.00
Bellmawr PD $5,500.00
Berlin Twp PD $5,500.00
Brooklawn PD $5,500.00
Camden County Metro $5,500.00
Chesilhurst PD $5,500.00
Haddon Heights PD $5,500.00
Lawnside PD $5,500.00
Lindenwold PD $5,500.00
Merchantville PD $5,500.00
Pine Hill PD $5,500.00
Stratford PD $5,500.00
Winslow PD $5,500.00
Lower PD $5,500.00
Wildwood PD $5,500.00
Cumberland
Essex
Maplewood PD $5,500.00
Millburn PD $5,500.00
Gloucester
Clayton PD $2,200.00
Deptford PD $6,600.00
East Greenwich PD $2,200.00
Franklin PD $2,200.00
Glassboro PD $6,600.00
Greenwich PD $1,760.00
Harrison PD $2,200.00
Logan PD $2,200.00
Mantua PD $5,500.00
Monroe PD $3,740.00
Paulsboro PD $2,200.00
Pitman PD $2,200.00
Washington PD $6,600.00
Westville PD $2,200.00
Woodbury Heights PD $4,180.00
Woodbury PD $6,600.00
Woolwich PD $2,420.00
Hudson
Bayonne PD $5,500.00
Jersey City PD $5,500.00
North Bergen Twp PD $5,500.00
West New York PD $5,500.00
Hunterdon
Clinton PD $5,500.00
Clinton Twp PD $5,500.00
Flemington PD $6,600.00
Franklin PD $4,950.00
High Bridge PD $2,750.00
Lambertville PD $1,375.00
Lebanon PD $2,750.00
Raritan PD $1,760.00
Readington PD $2,200.00
West Amwell PD $3,300.00
Mercer
Hamilton PD $5,500.00
Hopewell PD $5,500.00
Middlesex
Dunellen PD $5,500.00
Edison PD $5,500.00
Middlesex PD $5,500.00
North Brunswick PD $5,500.00
Old Bridge PD $5,500.00
Piscataway PD $5,500.00
South Brunswick PD $5,500.00
Spotswood PD $5,500.00
Woodbridge PD $5,500.00
Monmouth
Allentown PD $5,500.00
Asbury Park PD $5,500.00
Atlantic Highlands PD $5,500.00
Deal PD $5,500.00
Eatontown PD $5,500.00
Englishtown PD $5,500.00
Freehold Twp PD $5,500.00
Highlands PD $5,500.00
Holmdel PD $5,500.00
Keansburg PD $5,500.00
Keyport PD $5,500.00
Manalapan PD $5,500.00
Matawan PD $5,500.00
Middletown PD $5,500.00
Neptune PD $5,500.00
Red Bank PD $5,500.00
Sea Girt PD $5,500.00
Spring Lake Heights PD $5,500.00
Union Beach PD $5,500.00
West Long Branch PD $5,500.00
Morris
Boonton Township PD $5,500.00
Hanover PD $5,500.00
Harding PD $5,500.00
Morris County Park Police $5,500.00
Mount Olive PD $5,500.00
Randolph PD $5,500.00
Rockaway PD $5,500.00
Ocean
Barnegat PD $5,500.00
Bay Head PD $5,500.00
Brick PD $5,500.00
Harvey Cedars PD $5,500.00
Jackson PD $5,500.00
Lakehurst PD $5,500.00
Manchester PD $5,500.00
Ocean Gate PD $5,500.00
Ocean PD $5,500.00
Point Pleasant Beach PD $5,500.00
Point Pleasant Boro PD $5,500.00
Seaside Heights PD $5,500.00
Ship Bottom PD $5,500.00
Stafford PD $5,500.00
Passaic
Clifton PD $5,500.00
Haledon PD $5,500.00
Hawthorne PD $5,500.00
Little Falls PD $5,500.00
Passaic PD $5,500.00
Woodland Park PD $5,500.00
Salem
Somerset
Bedminster PD $3,300.00
Bernards PD $4,400.00
Bernardsville PD $3,300.00
Bound Brook PD $5,500.00
Branchburg PD $6,600.00
Bridgewater PD $3,300.00
Far Hills PD $5,500.00
Franklin PD $11,000.00
Green Brook PD $4,400.00
Hillsborough PD $5,500.00
Manville PD $4,400.00
Montgomery PD $5,500.00
North Plainfield PD $2,750.00
Peapack Gladstone PD $6,600.00
Raritan PD $4,950.00
Somerville PD $2,200.00
South Bound Brook PD $3,520.00
Warren PD $4,400.00
Watchung PD $3,520.00
Sussex
Hamburg PD $5,500.00
Sparta PD $5,500.00
Verona PD $5,500.00
Union
Berkeley Heights PD $5,500.00
Cranford PD $5,500.00
Elizabeth PD $5,500.00
Hillside PD $5,500.00
Linden PD $5,500.00
Union PD $5,500.00
Warren
Courtesy of Patch.com
Here is additional information from the NJ.gov site