Divorce & Alimony
Whether you're on the paying or receiving end, we're here to help guide you along the way to ensure you're protected well into the future.
CALL US TODAY: 800-709-1131
Alimony Services in New Jersey
Alimony refers to the monetary support paid by one party to another following a Divorce or dissolution of a Civil Union. The concern for both parties is generally the same - whether you'll have enough money after paying or receiving Alimony from your former spouse to live comfortably, safeguard your assets, preserve a strong economic outlook, and ensure a happy, healthy retirement.
Our primary consideration for any Family Law client is that you're able to carry on in life with the greatest confidence possible going forward into the future. In other words, we want to ensure that if you've achieved financial stability going into your marriage, that you maintain financial stability in the event you have to dissolve that marriage. If you're on the paying end, you'll always want to provide less, and if you're on the receiving end, you'll always want to receive more.
Though it might seem counter-intuitive, often times a great negotiation between 2 spouses is a negotiation where neither side leaves feeling like they "won." Stated differently, if you walk away from the table wishing you received more -- and your former spouse walks away wishing he or she would pay less, both sides in this instance have benefited. Still of course, our primary goal is to reduce the amount you owe and to increase the amount you receive, fairly and equitably within the boundaries of the law.
Because of Alimony's two-part intent (meaning that it aims to maintain both spouses's lifestyles), Alimony can understandably foster discord between the 2 parties given the need to allocate limited financial resources. This tends to remain true even among the super wealthty, as the costs of Alimony paid and received tends to increase proportionate to the spouses' wealth. Because of this, you can reasonably expect a high-income spouse to pay more in Alimony to his or her ex than a blue-collar worker would pay to his or her ex. As income increases, so generally does the actual amount paid, while the proportion may be similar between them.
Because of the contentious nature between both payer and payee in the context of Alimony payments, we strongly recommend consulting an experienced divorce firm like Simon Law Group, LLC to handle negotiations on your behalf and to represent your interests to the greatest extent possible.
Alimony Law
Essentially a form of Spousal Support, the law in New Jersey changed in September 2014 when the Governor signed into law the alimony reform bill. Previously, the law allowed for three types of alimony 1) Limited Duration, 2) Permanent, and 3) Rehabilitative. Permanent alimony no longer exists.
The three categories have been reduced to "Open durational alimony" and "Limited duration alimony."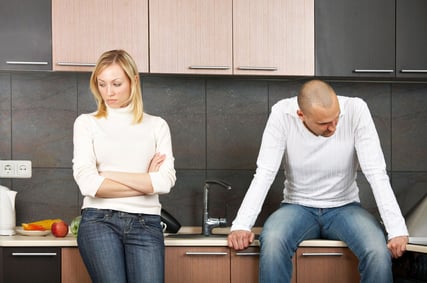 As a result of the new law, both individuals can no longer expect an alimony award to last for the same length as the marriage lasted. For example, if the marriage lasted 8 years, alimony could've been expected to be paid for 8 years or more; however, now any payments longer than those 8 years would be considered a rare and "exceptional circumstance" under the new law. In essence, New Jersey's revision of the law seems to protect the individual who must pay the alimony rather than the individual who receives the payment.
Under the new law, in general, alimony cannot be for longer than the length of the marriage, except if the marriage lasted for 20 years or longer. Only then would the receiving spouse receive "open durational alimony."
Alimony in New Jersey is a complicated process which is continuously evolving both in our Legislative branches and within the courts. Due to its complexity and extremely long-lasting financial implications, it is best handled by experienced divorce attorneys like our lawyers here at Simon Law Group, LLC.
If you're about to undergo the divorce process and expect to pay or receive alimony payments, contact us and we may be able to help you navigate this complex field of law. As always, our consultations are free.
Effects of Alimony on Financial Security & Factors Considered
Alimony/Spousal Support can have a major impact on your quality of life in the coming years and can mean the difference between living comfortably and stressing about your future economic outlook. It's important to recognize the role that a skilled, seasoned divorce attorney plays in this arena, as we can often develop unique strategic methods to enhance your standing in settlement negotiations, especially when thinking outside the box from a creative lens.
One of the main focuses of Alimony is to allow both you and your former spouse to maintain the lifestyle each of you lived while you were married. Of course this is not always possible.
Palimony for Unwed Couples
If you and your partner have a cohabitation agreement, either oral or written, you may be eligible to receive Palimony from your partner. Click the link above to learn more, or contact us to schedule a free case evaluation.
New Jersey Family Courts we appear in regularly:
Bergen County
Justice Center, Room 119
10 Main Street
Hackensack, NJ 07601
(201) 527-2300
Essex County
Family Division Dissolution Unit
Wilentz Justice Complex, Room 113
212 Washington Street
Newark, NJ 07102
(973) 693-6710
Family Division Non-Dissolution Unit
Wilentz Justice Complex, Room 1365
212 Washington Street
Newark, NJ 07012
(973) 693-5560 or (973) 693-5520
Hudson County
Family Intake Team
Administration Bldg., Room 203
595 Newark Avenue
Jersey City, NJ 07306
(201) 795-6777
Hunterdon County
Family Case Management Office
Hunterdon County Justice Center
65 Park Avenue
Flemington, NJ 08822
(908) 237-5920
Mercer County
Family Case Management Office
175 S. Broad St., 2nd Floor
P.O. Box 8068
Trenton, NJ 08650-0068
(609) 571-4200
Middlesex County
Family Part Intake Reception Team
Family Courthouse
120 New St., Room 111
P.O. Box 2691
New Brunswick, NJ 08903-2691
(732) 519-3242
Monmouth County
Family Part, Courthouse
71 Monument Park
P.O. Box 1252
Freehold, NJ 07728-1252
(732) 677-4050
Morris County
Morris County Family Division
Morris County Courthouse Family Intake
Washington and Court Streets
P.O. Box 910
Morristown, NJ 07963
(973) 656-4000
Somerset County
Family Case Management Office
Courthouse, 2nd Floor
P.O. Box 3000
Somerville, NJ 08876-1262
(908) 231-7600
Sussex County
Sussex County Family Division
Sussex County Judicial Center
43-47 High Street
Newton, NJ 07860
(973) 579-0630
Union County
Dissolution Assignment Office
New Annex Bldg.; Courthouse
2 Broad Street
Elizabeth, NJ 07207
(908) 659-3314
Warren County
Family Division Dissolution Unit
Courthouse
413 Second St.;
P.O. Box 900
Belvidere, NJ 07823-1500
(908) 475-6150
FREE CASE EVALUATION
As the region's leading family, real estate, and estate planning attorneys, Simon Law Group, LLC offers no-cost consultations.