Bill Cosby - Dr. Cliff Huxtable, Sexual Predator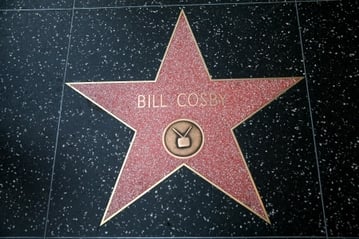 Reflections by Harlan I. Ettinger, Esq.
In early July 2015 the Associated Press reported, "Bill Cosby admitted in a 2005 deposition that he obtained Quaaludes with the intent of giving them to young women he wanted to have sex with."
The AP story was based on documents the wire service obtained from the federal court in Philadelphia where a woman sued Cosby for sexual assault more than a decade ago. The woman accused Cosby of drugging and molesting her.
This weekend, The New York Times, which obtained the nearly 1,000-page full transcript of Cosby's 2005 deposition in the case, published excerpts from the transcript. Cosby's deposition testimony is damning. In his own words Cosby, long revered as Dr. Cliff Huxtable, America's dad, reveals himself to be a sexual predator.
The headline reads, "Bill Cosby, in Deposition, Said Drugs and Fame Helped Him Seduce Women." Fame may be a tool of seduction, but administering strong sedatives that render people incapable of appraising or controlling their conduct, and therefore incapable of providing consent to sexual activity is not seduction. It is an element of a crime. In New Jersey, if the sexual activity with a person who has been rendered incapable of providing consent includes "penetration", the crime is aggravated sexual assault, which is a first degree offense like murder or kidnapping. Other states and the federal law call this criminal behavior "rape". If the sexual activity involves touching the victim's or actor's intimate parts "…for the purpose of sexually arousing or gratifying the actor", the crime is aggravated sexual contact, which is a third degree offense.
Cosby appears to have admitted to committing aggravated sexual contact. In New Jersey, the statute of limitations for criminal prosecution of aggravated sexual contact is five years. If the victim is younger than 18 years old at the time of the offense, the criminal case must be brought within five years of the victim becoming 18 or within two years of the victim discovering the offense (whichever is later). Aggravated sexual assault (rape) can be criminally prosecuted at any time in New Jersey. There is no "statute of limitations" for prosecution of this crime.
As highlighted by the Cosby case, victims of sexual assault or unlawful sexual contact can also seek redress for their injuries by filing civil suits against their attackers. In New Jersey law suits must be filed within two years of the incident, although there are reasons courts can allow cases to be filed later. For example, if the victim is less than 18 years old at the time of the sexual assault or unlawful sexual contact, the victim's civil cause of action "…accrue[s] at the time of reasonable discovery of the injury and its causal relationship to the act of sexual abuse." A victim's law suit must be started within two years after reasonable discovery.
Call today 800-709-1131 if you need to speak with a NJ Criminal Attorney, if you have been sexually assaulted or are facing charges of assault. We offer free consultation, call TODAY. 800-709-1131